JONESBORO — Clayton County Public Schools' graduation rates continue to rise, though the district lags behind the state's 2019 rate.
In 2019, 72.7% of Clayton County's 2019 graduating class earned a high school diploma. That's a 1% increase over the 2018 graduating class rate of 71.7 percent.
According to the Georgia Department of Education, 82% of students statewide from the Class of 2019 graduated, an increase of .4% over the 2018 rate of 81.6 percent.
Though the district is behind state averages, Superintendent Morcease Beasley said he was excited about the district's continued rising graduation rates.
"We are proud of the members from the Class of 2019, their teachers, school administrators and all the support personnel who have demonstrated their commitment to high performance as evidenced with these improved graduation rates," he said.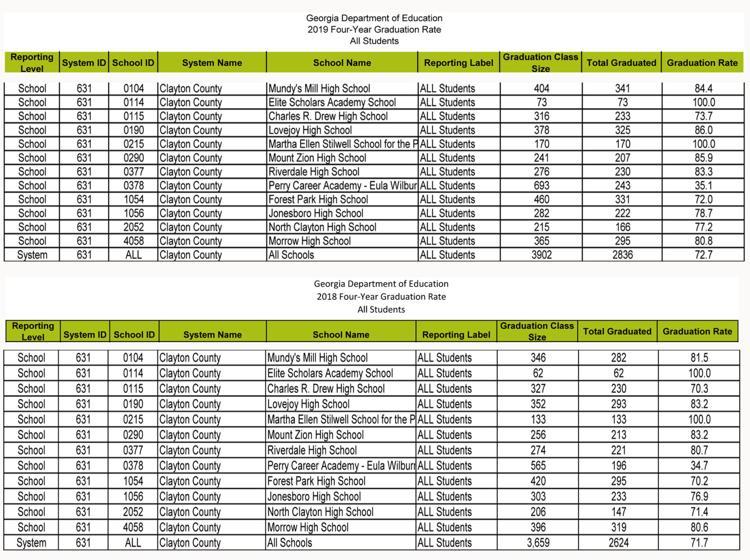 The GaDOE began measuring graduation rates in 2011. Since then, CCPS rates have risen more than 22 percent.
"We believe our continued improvement is based on increasing rigor in the classroom, strengthening our advisement and support strategies for monitoring students' performance toward meeting graduation requirements and encouraging students to step outside the box and participate in Advanced Placement courses, dual enrollment and career pathway opportunities," Beasley said.
In addition to the district-wide increase, all Clayton high schools experienced gains. North Clayton High School had the largest jump from 71.4% in 2018 to 77.2% in 2019, an increase of 5.8 percent.
Charles Drew High School experienced the next largest growth from 70.3% in 2018 to 73.7% in 2019 or 3.4 percent. Mundy's Mill High has the third largest increase from 81.5% in 2018 to 84.4% in 2019, a difference of 2.9 percent.
Both Elite Scholars Academy and Stilwell School of the Arts maintained their 100% graduation rate.
"I express my profound gratitude to all of our high school teachers, our support personnel and our school and district leaders for their continued efforts to cultivate, advance and deepen a culture of high performance on the campuses of all high schools," Beasley said. "Through these dedicated employees, working in concert with our committed students and their families, we will continue to experience success in our mission to empower students to achieve academic and personal goals."