JONESBORO — Imani Bell was a good kid with a bright future.
She danced in church, volunteered, did well academically, played varsity basketball at Elite Scholars Academy and was a member of the school's track and field team. Though only in 11th grade, she'd already earned eight college credits and was preparing to take her ACTs.
Her dream was to play basketball at Stanford University. Those dreams ended abruptly on Aug. 13, when Bell collapsed during an outdoor basketball practice.
She was alive but unresponsive when EMS arrived at Elite Scholars at 5:52 p.m. She became pulseless and was revived on the ride to Southern Regional Medical Center, but ultimately passed away at the hospital.
"She was a great all around kid," said Bell family spokesman Justin Miller. "She was on track to be somebody great."
Miller is Bell's cousin. He said the family is still trying to wrap their head around the loss.
"She was the oldest with five younger siblings and often helped care for them," Miller said. "At 16, she was probably better, more empathetic and more prepared than anyone else her age."
Now, all the family is left with questions.
"Right now we're trying to figure out all the facts," Miller said. He said everyone associated with the Clayton County Public Schools "has shut down and stopped answering any questions."
Miller, also a lawyer in Atlanta, said the only way he feels they'll get answers is through the legal system.
Late last Tuesday night, CCPS officials sent out a release concerning Bell's death.
When asked for more information, on Aug. 16 district officials said, "As the investigation is still active, we cannot provide any additional comments relative to the matter with the exclusion of the statement provided by the district on Tuesday evening."
Still, that leaves Bell's family wondering what happened. Why were she and fellow teammates practicing basketball outside on one of the hottest days of the year, so far. According to the National Weather Service in Peachtree City, the temperature reached 99 degrees at 3:21 p.m. Aug. 13.
The Georgia High School Association, of which Elite Scholars Academy is a member, states that when the temperature is 92 degrees or above there should be "no outdoor workouts. Delay practice until a cooler (Wetbulb Global Temperature) level is reached."
The WBGT is a measure of heat stress in direct sunlight.
In response to an Open Records request to the Clayton County Public Schools asking for WGBT readings taken at Elite Scholars Academy on Aug. 13, Custodian of Records Margaret Sealock, stated "no responsive documents exist."
"Following an extensive search of our records, including archives, we do not have responsive document to your request for the wet bulb globe temperature (WGBT) readings for all Elite Scholars Academy sports teams on Tuesday, Aug. 13, 2019."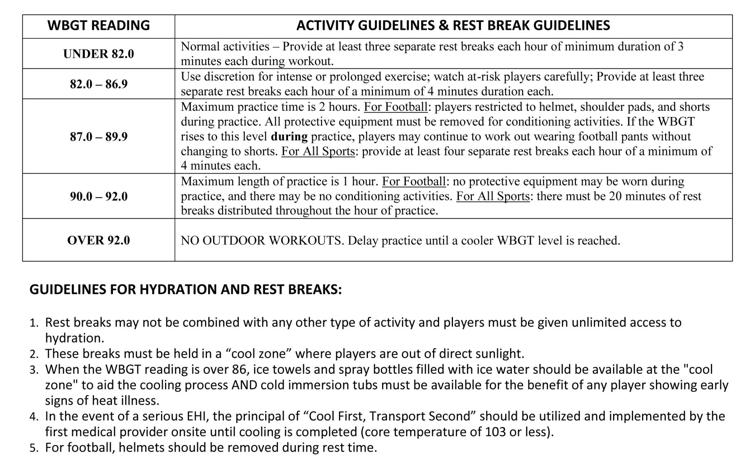 Miller said it's the family's understanding that practice was required by the girls varsity basketball coach.
"These are adults who have control and custody of our children, and it's ridiculous that any kid was out there in the heat," he said. "This is why they have these rules."
LaRosa Asekere is identified on the GHSA website at the head coach of the girls varsity basketball team.
"We have overzealous coaches and no checks and balances," he said.
On top of that, Miller said Bell shouldn't have been allowed on the practice field because she hadn't turned in the paper work for her GHSA-mandated physical examination.
"We found that form in her backpack," he said, noting that Bell was deemed physically fit to play.
It appears other GHSA rules may have also been broken by just holding a basketball practice so early in the year.
On their calendar, the association states the earliest date for basketball practice to begin is Oct. 21, 2019, while the earliest date for a basketball game is Nov. 8, 2019.
The Elite Scholars Academy's girls varsity basketball team's first game is scheduled for Nov. 8 against Miller Grove High School in Lithonia, according to maxpreps.com.
While the Bell family mourns the loss of their daughter, sister and cousin, they'll continue to pursue answers, both from the school district and the Georgia Bureau of Investigation.
The GBI conducted an autopsy Aug. 15. Spokeswoman Nelly Miles said it could take weeks for it to be completed.
"Imani always had it together," Miller said. "She's always been different and rare. That's the saddest part about this whole thing."